HOW CAN I REGISTER FOR A TOEFL IBT TEST?
I.  First, you need to create a TOEFL IBT account. Please follow the steps below.
1. Click www.ets.org/mytoefl.
2. Create An Account.
3. Provide the required information accurately and make sure there is no missing piece of information. Type in your name and surname as they appear on your passport. Do not use Turkish characters. Type in your phone number with no space in between the numbers.
For detailed information about identification requirements, please click the link below.
https://www.ets.org/toefl/test-takers/ibt/take/id/
4. You will be required to determine a user name together with a password. Please note them down as you will need them later.
5. After creating your TOEFL IBT account, please log out and log in again using your credentials.
6. You will receive your ETS ID number on the right of Home Page under Contact Information. Please note your ETS ID number down.
II. Please follow the steps below to register for a test.
1. Log in to your TOEFL IBT account.
2. Click MY TOEFL HOME on the home page.
3. Click REGISTER / FIND TEST CENTERS, DATES under MY TESTS.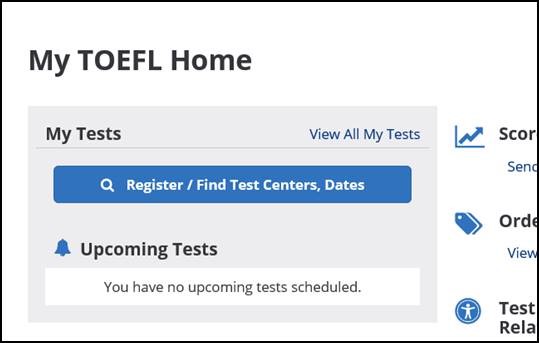 4. You will read "Once you select a test center, you will have 20 minutes to complete your registration.   If you have an advance reservation code, schedule your test appointment with the code." on the screen. Click "schedule your test appointment with the code." and enter the reservation code(*).  
(*) Please send an e-mail to huseyin.bugday@yeditepe.edu.tr stating which date you would like to take the test, and you will be provided with the reservation code.

5. Enter the reservation code.

6. Once you complete your reservation, you will be able to specify the institution that you would like your score to be sent to.
 English Preparatory School's institution code is  7050. Please do not forget to add English Preparatory School to the list of score recipients so that we can get your official score report from the ETS.
7. Fill in the required information and make payment (test fee is $185) using your credit card.
8. You will receive a confirmation e-mail. Please read it and check the information written. Take the print out of this e-mail with you to the test center.